The Department of Political Science (DOPS) is pleased to announce the creation of the Dr. Jane Gates Civic Engagement Scholarship Fund. Dr. Gates is an alumnae of Arkansas State University and after completing her Ph.D., returned to her alma mater to serve in various roles from faculty to dean from 1974 to 2001.
In 2018 she was chosen and recognized as a Distinguished Alumni for her years of dedicated public service that spans from Arkansas to Georgia to Connecticut. Dr. Gates and other Department of Political Science colleagues conducted inaugural university-focused research on civic engagement-town-gown partnerships – in the Lower Mississippi River Delta region.
Since 2011 she has been the Provost and Senior Vice President for Academic and Student Affairs at Connecticut State Colleges and University (CSCU). This scholarship is provided in recognition of her over two decades of service at ASU during which Dr. Gates inspired and steered countless students into servant leader roles in community engagement.
The scholarship will be used to provide funding to a Master of Public Administration (MPA) student in the department's NASPAA accredited MPA program who demonstrates an intent while in the MPA program to pursue a career in civic engagement. When the scholarship fund is fully endowed, the award will be distributed annually each spring term to an outstanding student with a minimum of 15 completed hours in the program.
Contributions to the fund can be sent to the ASU System Foundation, Inc, 2626 Alumni Blvd., P.O. Box 1990, State University, AR 72467 or made online at: https://www.astate.edu/a/advancement/give-now/#Dr.%20Jane%20Gates%20Scholarship
Be sure to specify the gift is for the Dr. Jane Gates Civic Engagement Scholarship Fund in the memo section. If you have additional questions you may contact Peggy R. Wright , the chairperson of the scholarship committee, at (870) 680-8214 or pwright@astate.edu.
---
Current Alumni Spotlight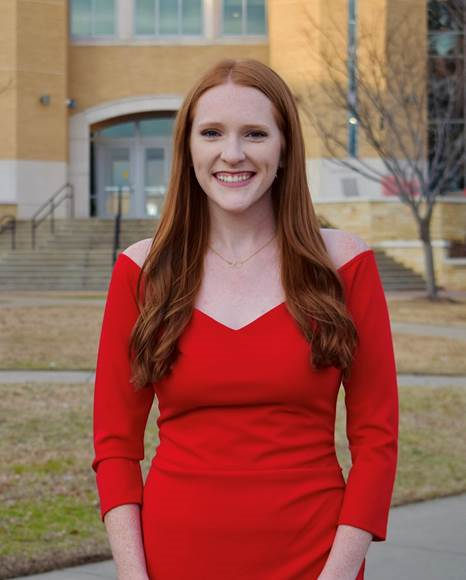 Emily Noel, B.A. in Political Science 2019; M.A. in Political Science 2020 (4+1 program)
First Year Law student at the University of Arkansas-Fayetteville, Class of 2023. She was awarded with multiple scholarships to attend law school.
Testimonial
"Pursuing both a Bachelor of Arts and a Master of Arts in Political Science at Arkansas State University provided me with a seamless transition into the professional world. As a student at Arkansas State University, I was able to foster close relationships with both my professors and my fellow students while learning important skills that will be essential to my success as a public servant. I learned how to work with others to achieve a common goal; I learned how to evaluate policy and political outcomes as well as different factors that may or may not influence those outcomes; I learned how to think critically about certain issues; I learned how to both spot and fill gaps in significant problems; and I was imparted with the expertise of those who taught me, giving me insight into the subjects they taught, which created a desire in me to help others. My desire to help and an understanding of my personal strengths led me from Arkansas State University to the University of Arkansas School of Law, where I will learn how to effectively and efficiently help others with issues that they face in everyday life. The unmatched mentorship that I received from my professors in the Political Science department at Arkansas State University has helped me to grow as a student and has led me to where I am at today."
Our Mission
Our mission is to enhance students' understanding of the diversity of approaches to knowledge; to enhance an awareness and appreciation of their intellectual heritage; to expand their understanding of government and cultures; to facilitate work and political concepts at the formal operational level of reasoning, to develop generalizations, to build theory and apply it to problem solving; to increase their tolerance of differences and appreciation for ethical values; and to instill in them a desire for lifelong learning and citizen engagement.
Tusalem's Article Published in Professional Journal
The peer-reviewed journal Politics & Policy recently published an article by Dr. Rollin F. Tusalem, associate professor of political science, "State Regulation of Religion and the Quality of Governance." Tusalem examines how state authorities' regulation of religion severely harms the quality of governance, especially dimensions involving political accountability, corruption, and the rule of law. He concluded secular states are more likely to have better governance. The article is available on the journal's website.