Lecture-Concert Series to present Seraph Brass, Nov. 2 & 10
10/28/2020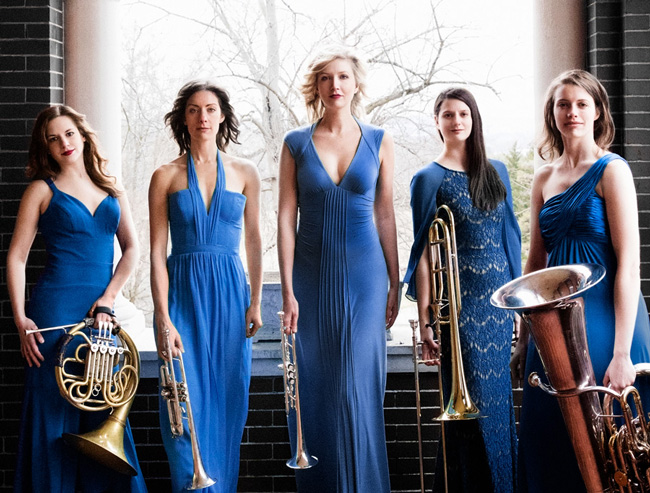 Seraph Brass
JONESBORO – The Lecture-Concert Series at Arkansas State University will offer a pair of online programs by members of the Seraph Brass, with the first scheduled next week.
Raquel Samayoa and Elisabeth Shafer will be featured in "Chamber Music: Demystifying the Experience," a virtual presentation via the Zoom platform, Monday, Nov. 2, at 7:30 p.m.
Four other members of the group will follow up with a panel discussion, "Building Versatility for Your Career in Music," at 11 a.m., Tuesday, Nov. 10, via the same Zoom connection. The participating musicians will be Gretchen Renshaw James, Mary Bowden, Jean Laurenz and Racel Velvikis.
All events in the Lecture-Concert Series are admission free and open to the public.
Winners of the 2019 American Prize in Chamber Music, Seraph Brass is a dynamic ensemble drawing from a roster of America's top female brass players. Performing primarily as a quintet/sextet, Seraph Brass also performs as a larger 10-piece ensemble.
Committed to engaging audiences with captivating programming, Seraph Brass presents a diverse body of repertoire that includes original transcriptions, newly commissioned works, and well-known classics. Seraph released its debut studio album, Asteria, on Summit Records in January 2018, winning a Silver Medal Global Music Award.
In addition to the A-State Lecture-Concert Series, additional funding support is provided by the College of Liberal Arts and Communication, the Office of Diversity and Community Engagement, and the Department of Music. There is no fee for the online presentation.
Interested individuals may visit the Lecture-Concert Series website, AState.edu/LectureConcert, for additional information on these and other upcoming events. For more details, one may contact Dr. Ed Owen, chair, Lecture-Concert Committee at (870) 972-3862 or via email at eowen@AState.edu.
# # #